For businesses and residents in Coral Gables, document shredding is a safe and effective method of disposing papers with personally identifiable information (PII).

Healthcare Environmental Services provides shredding services in full compliance with state and federal legislative standards. Customized scheduling, exceptional customer service, and compliancy training programs are hallmarks of our experience.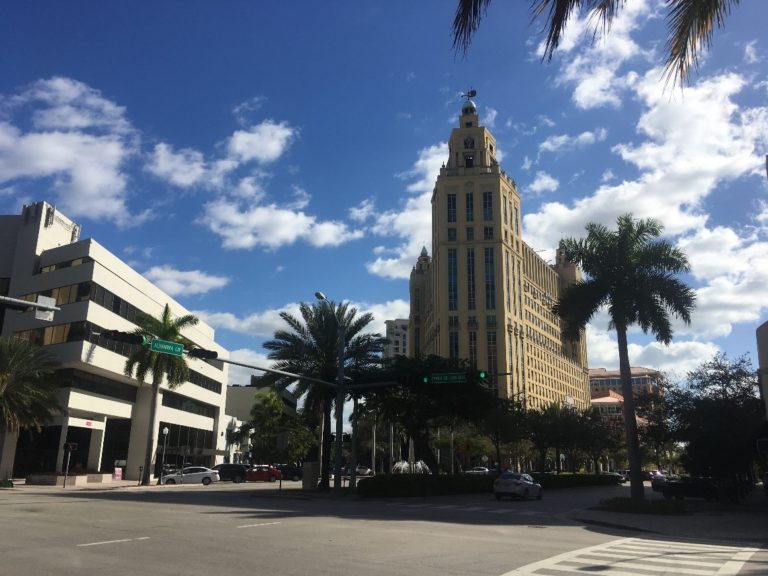 Our Compliancy Standards – FL and Federal Legislation
We understand the importance of treating your information – and that of your customers' – with care and proper consideration of security. We've paid special attention to our Coral Gables document shredding services, designing every step of the process to adhere to the precise regulations established by Florida's state and federal requirements.
Your documents will be picked up by HES's registered transport vehicles, and after the shredding process, the remaining particles will be directly delivered to one of our trusted local recycling partners. Every appointment includes a Certificate of Destruction, which functions as a record that the documents entrusted to our care were satisfactorily and safely disposed.
Document Shredding in Coral Gables
Fraud cost the average Floridian victim around $400 in 2019. The cost can be even greater for businesses and companies, with losses that include months of effort, unpleasant lawsuits, and a blow to the company's brand and reputation. 
It's tempting to dismiss the dangers of identity theft and fraud. We tend to assume that it only happens to the careless. However, the reality of the situation is that, armed with only a name and an address, thieves can cause several thousand dollars of damage, and their targets aren't exclusively big businesses. It's just as likely that they could target an individual or entrepreneur in Coral Gables.
Document shredding is your best method of defense, effectively guaranteeing that your documents – and the information they contain – can never be stolen or reconstructed. HES's shredding process makes sure that every individual page is crosscut into tiny pieces, which are then locally recycled.
What Documents Should I Be Shredding?
• Cancelled Checks
• Paid Credit Card/Utility Bill Statements
• Credit Card Offers
• ATM Receipts
• Shopping Receipts
• Old Pay Stubs
• Old Medical Bills/Prescriptions
• Account Statements
• Junk Mail
The mobile shredding provided by HES makes sure that Coral Gables customers enjoy the same high, end-to-end security standards employed at our off-site facility alongside the convenience and flexibility of shredding at their doorstep.
A uniformed technician will securely transfer your papers directly into the shredding vehicle, where they will be destroyed and stored until we safely deliver them for recycling. The automatic process involves a thorough crosscut into confetti-like pieces, ensuring that not a single leaf will be missed or improperly processed. We invite our customers to watch the shredding in real time, allowing you to personally confirm the destruction of your papers.
When the shredding has concluded, the technician will compile and provide a Certificate of Destruction for your records. 
For clients who go through a great deal of files or documents in Coral Gables, scheduled shredding is a service that can not only save time and money, but also physical storage space. The average office worker still produces around 10,000 sheets of paper each year, and if documents must be kept for legal reasons, or if they contain information that can't be casually disposed, they can accumulate quickly. 
In-house shredding requires both the initial purchase of an expensive shredder, constant maintenance, and regularly lost employee time. By outsourcing to a professional shredding company, you're not only protecting your bottom line, but you're also making sure that the documents in your care are destroyed according to the proper legal parameters.
HES's scheduled shredding includes the free use of locking consoles, which can be placed in your office and used to collect any sensitive documents throughout a regular workday. On the date of your shredding appointment, these documents will be collected by our uniformed technician and shredded on-site. The locking containers will remain in your possession for continued use. You will be provided with a Certificate of Destruction at the conclusion of each shredding.
Hard drive storage is an essential part of how many of us store our important documents, regardless of whether it's in an office or home environment. When these devices are removed from service or use, it is essential to destroy the physical disk, as standard deletion does not guarantee that your files cannot be recovered. 
When hard drives are discarded or resold without being destroyed, the risk of a data breach increases exponentially. HES ensures that it will be impossible to read any remaining data on the drive by physically crushing the drive platter. 
Following the protocol of our other Coral Gables document shredding services, you'll receive a Certificate of Destruction at the end of every shredding session. This document will record the serial numbers of every drive destroyed, providing you with a comprehensive account of the information disposed.
Southern Florida's Local Document Disposal Service
Healthcare Environmental Services is a fully insured and licensed disposal company, and our shredding services are fully compliant with all legal requirements for the disposal of sensitive information. Each of our service options is customizable, and we pride ourselves on our comprehensive, reliable service. Rely on our extensive experience and expertise for your document solutions.
Let us help you create the perfect document disposal plan for your Coral Gables business. Ask for your free quote today, or call 305-436-0422 and speak with one of our customer service representatives.